Our commitment to sustainability spans far beyond recyclable or compostable product lines. It impacts our entire business model, from new product development to ongoing modification and product improvements.
We pride ourselves on a deep rooted commitment to environmental values and responsibilities, which we bring to life each day through continued efforts to reduce our corporate environmental impact. From our facilities to our packaging – sustainability and quality are never compromised.
Our Sustainable Product Materials:
We are committed to creating the best possible products for our customers' needs, and the environment as a whole, and we believe that starts with understanding what options are out there. Here's an overview of our current sustainable materials and the unique benefits each provides: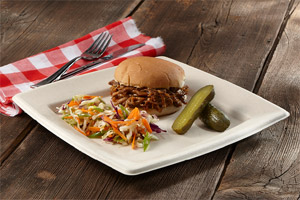 PET – We use polyethylene terephthalate plastic (PET) for most of our catering, takeout and grab and go style food packaging. PET is an FDA approved, sturdy, leak resistant, and recyclable* material, ideal for cold foods.
CPET – This is a crystallized form of PET, which allows the material to be freezer and oven-friendly.
PCR PET – Several of our other products are produced using post consumer recycled PET, helping to further reduce waste.
Polypropylene – Our microwavable products are made of a recyclable**, mineral filled material designed to reduce the overall container weight and costs.
Molded Fiber Pulp – These products are made of a sugar cane manufacturing byproduct, known as Bagasse. This is a renewable material that is increasing annually, and is certified BPI compostable*** To learn more about BPI, please visit www.bpiworld.com.
* This package may not be recyclable in your area.
**Adapted from the American Plastics Council, NAPCOR, and EPA.
***Note: Where municipal or industrial composting facilities exist. Check with your local community to confirm availability.
For more information about Sabert's commitment to sustainability and our products, please call 1-800-SABERT-1 (722-3781).